Press Coverage of My Research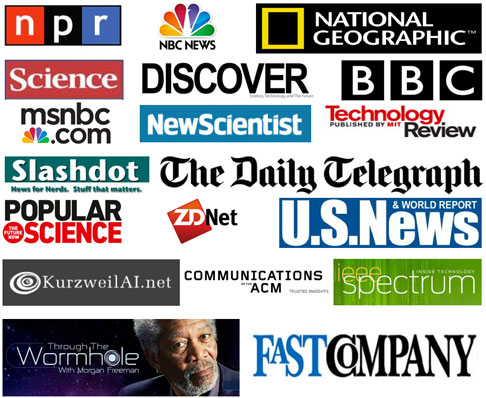 Selected Articles
Miami Herald. 2014. UW lab works to create smarter robots
NBC News. 2013. Video: Squishy virtual creatures 'evolve' walking behaviors.

Other coverage of this work on KurzweilAI.net, Reddit (/science front page), Hacker News (front page), ScienceDaily, PhysOrg, RedOrbit, DVICE, NSF.gov, and dozens of other sites. BuzzFeed calls it the "simplest demonstration of evolution you'll ever see."

Discover News. 2013. Evolution Helps Build Better Robots
Discover. 2013. Watch This: Squishy Robots Evolve for Speed
Fast Company. 2013. With Evolved Brains, Robots Creep Closer To Animal Like Learning
National Geographic. 2013. Science writer Carl Zimmer covers our work on why modules evolve
The BBC . 2013. 3D printing your thoughts. Covers my work on designing objects via thought (brain scanning) and gaze (eye-tracking) alone. I am a member of the Cornell team.
Through the Wormhole with Morgan Freeman. 2013. Are Robots the Future of Human Evolution? (I am a member of Hod Lipson's team. The documentary shows our work evolving computational brains for robots that learn to walk).
The New Scientist (featured on cover). 2011. Darwin's robots: A holistic, evolutionary approach means that robots could learn to design themselves.
NPR (National Public Radio) 2012. Academic Minute - Evolution and Embryology.
Houston Chronicle 2013. Laramie club teaches students to control robots.
Technology Review. 2012. Computer Scientists Reproduce the Evolution of Evolvability.
Popular Science. 2013. 175,000 ways to walk.
MSNBC.com. 2011. Intelligent design: Users power evolution in 3-D Web printing.
Slashdot. 2011. Crowdsourcing speeds evolution of 3D printable objects.
IEEE Spectrum. 2013. Bizarre Soft Robots Evolve to Run
The New Scientist (featured on cover). 2010.
US News & World Report. 2010. New MSU research sheds light on how we become altruistic.
The Daily Telegraph. 2010. Computer-simulated life forms evolve intelligence.
MIT Technology Review. 2011. 3-D design simplified: a new website could accelerate the adoption of 3-D printing.
Science. 2006. Darwin's Place on Campus Is Secure—But Not Supreme.
Servo Magazine. 2013. Aracna: an open-source 3D printed robot.
Laramie Boomerang. 2013. Laramie club teaches area students to control robots.
UW News. 2013. Visiting doctoral student from Norway works to evolve robots to learn better.
NSF Highlight. 2013. Modular Biological Networks Avoid Costly Connections.
Cornell Chronicle. 2013. Scientists find 'holy grail' of evolving modular networks
Science Daily. 2013. Engineers Solve a Biological Mystery and Boost Artificial Intelligence
CereberalHack.com. 2013. Scientists crack the code as to how modular design can evolve. A potential AI milestone?
Mechanincal Engineering. 2012. Design in the age of 3-D printing.
Slashdot. 2010. Artificial life forms evolve basic memory, strategy.
Communications of the ACM. 2011. 'EndlessForms' uses the Web to breed 3D printable objects.
KurzweilAI.net. 2011. Now anyone can design and evolve 3-D printable objects interactively.
ZDNet.com. 2013. Fabricated: The New World of 3D Printing.
KurzweilAI.net. 2010. Artificial life forms evolve basic intelligence.
Hacker News (front page). 2011. Breed 3D printable objects, no technical know-how needed.
ScienceDaily.com. 2012. Why Do Organisms Build Tissues They Seemingly Never Use?
ScienceDaily.com. 2011. No technical know-how needed: Endless Forms Web site helps users 'breed' 3-D printable objects.
ScienceDaily.com. 2010. Research sheds light on altruism.
SigEvolution, the ACM's newsletter on Genetic and Evolutionary Computation. Cover. Evolving 3D objects with a generative encoding inspired by developmental biology.
Additional Coverage
Lansing State Journal, Jerusalem Post, Cornell Daily Sun, Innovation News Daily, LiveScience.com, PhysOrg.com, eCampusNews, NewsWise.com, BigThink.com, Business News Daily, Cornell Chronicle, Cornell Daily Sun, State News, Shapeways blog, Thingiverse blog, Carl Zimmer's blog, 3Dprinter.net, PlasticsToday.com, Biota Live Podcast, Impact Radio, City Pulse, OneIndia.com, Computerra.com, TodayOnline.com, Creativity Online, Heise.de, ZeitNews.org, MyScience.cc, Ponoko.com, TheHighLow.com, and dozens of other media outlets.